Advanced painting lessons – Page 9
Chinny and The River
This is a imaginary scene of a real place which you can paint in oil or acrylic.
Mount Chincogen, or Chinny as it is affectionately know to the locals, is a conical shaped mountain with pleasant curves and the river is the Brunswick River which winds through Mullumbimby and out to the ocean at Brunswick Heads, Northern New South Wales – east coast of Australia.
The complete lesson of 6 videos runs for 80 minutes.
You might take days to finish the painting. If you are working in acrylic the paint will dry in parts before you finish so do try and finish your blue sky in one sitting so as to get the blending from blue to white finished before drying starts.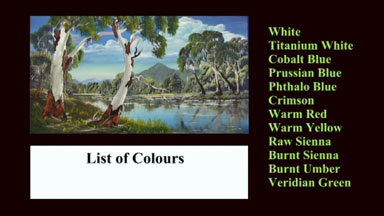 With the little trees on the mountains try to mix enough of the pale green to finish the mountain, it is not easy to exactly mix the same color if you run out. The little trees are hard to paint and a bit of practice on a spare board or canvas will help you gain the needed skill without fear of destroying your painting. At the bottom of the mountain, any bad brush strokes can often be covered with the trees which we paint below the mountain in the next step.
Do not try to copy my painting exactly, place your items in a similar position to the items in my painting but with this style of loose painting it is best to make it up as you go to a certain extent and take advantage of the freedom by leaving any good bits and covering the bad bits with the next brush strokes.
If your bigger trees are going to spoil your background then leave the bigger trees out, and if you do put them in, put them where they balance the painting and maybe cover a not-so-good part of the background.
GO TO Next page