Learn to Paint Wet on Wet in Oil or Acrylic for Free
Painting is EASY when you know how
I will Show You How – Len Hend
Learn wet on wet painting techniques here for free
Wet on wet painting is becoming a popular pastime with groups of beginner painters enjoying a few drinks while each paints a picture.
The best collection of free tutorial painting videos are here, on this website.
The pages contain tutorial painting videos for you to learn to paint wet on wet in oil or acrylic for free.
Take your time – relax and learn to paint beautiful landscapes.
The lessons are in easy to follow down to earth plain English.
Beginners should start with some of the first lessons to learn the brush and knife techniques before moving on to the finer paintings.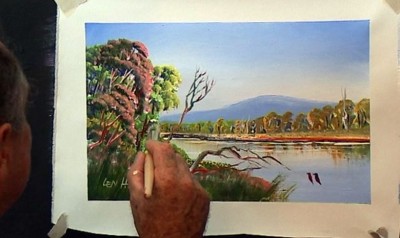 Browse the pages and find a scene to paint.
Click in the bottom right corner of the video for full screen view.
Take your time, pausing the videos as you go.
You can paint in oil or acrylic.
The first few pages have simple mono color paintings, then we move on to color.
Pages 7 and further pages have videos and tips about brushes and techniques for painting in oil or acrylic.
A full list of tips on getting started painting are available at PaintWithLen-Tips
Do not worry about trying to get everything right, you will acquire the skills in time by painting in a relaxed manner.
You can paint the same picture more than once. Bookmark this page.
Here is a List of Paints and Brushes you might need.
(If you are a real beginner you will learn about paints and brushes as you go, so do not worry about not knowing what you need, brown and white and a few cheap brushes and boards will get you started)
This short video showing the painting style you can learn

Go back to the top.
Go to the next page.